Pilgrim's Book of Hours Seasons of Life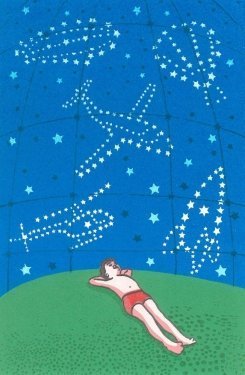 In Seasons of Life, well-known and inspiring Dutch people write about a life experience that has made them a bit wiser or still inspires them. Their contributions are alternated with poems and miniatures (small paintings) about universal themes. The original artworks have now been combined into one unique pilgrim book.
Every pilgrim that finished the Walk is eligible submit a page for selection for future editions. The next book is expected to be published in 2020. For each of the 34 route maps from the route guide, we are looking for a contribution by a pilgrim (in text or image).
Order the book here.
Source of inspiration: the Medieval books of hours
The Pilgrim's Book of Hours is inspired by the Medieval Book of Hours made by the Limbourg Brothers for the French Duke de Berry. Like other noblemen, the Duke had personal prayer selections issued in the early 15th century. The prayers were alternated ('illuminated') with miniatures (paintings of very small size) about the life of Christ, sins and virtues, lives of saints, etc. The Duke himself can be seen in one of the paintings.
The pilgrim's book of hours of the Walk of Wisdom tries to translate the desire under the Medieval books of hours into the 'self-seeking spirituality 'of our time. The exclusively Christian message has been let go off and instead inspiration is sought in many sources: not only religion or spirituality, but also love and friendship, art and sport, the experiences of other people.
Unique edition Seasons of Life, TV Gelderland
As the first pilgrim book, Seasons of Life (2015) follows the rhythm of the seasons. Each month has seven days with reflections of symbolic forerunners – ambassadors – of the Walk of Wisdom. The second pilgrim book (expected in 2020) follows the rhythm of the pilgrim route itself: each of the 34 route maps includes a recital of a pilgrim that brought him or her further into life, courage, support or inspriate.
Do you also want to submit an entry? An entry can be up to 220 words or 2/3 of a page from the guide. Photographs, drawings or paintings are also allowed.
Sources
The first image is called Constellation, by artist Marjoke Schulten who participates in the Seasons of Life. She learned a special cutting technique for making small prints (cardboard printing / linoleum printing). More information on  the Intermedi-Art website.
The second image originated from Les Belles Heures by the Limbourg Brothers commissioned by the Duc de Berry. More information at the Gebroeders van Limburg foundation website.