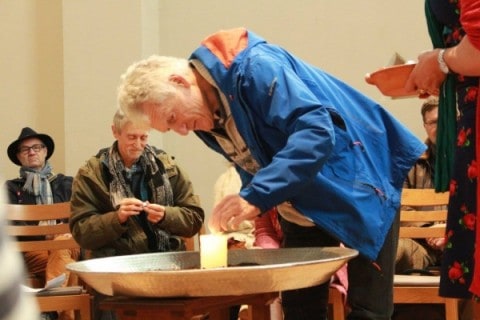 Walk of Wisdom
Een maandelijkse vertrekceremonie voor pelgrims die zich hebben ingeschreven voor de Walk of Wisdom. Ook andere belangstellenden zijn welkom, bv. om mee uit te zwaaien!
De vertrekceremonie is een bezinningsmoment op het lopen van de tocht. De (gratis) ceremonie staat los van een religie, duurt een half uur en wordt iedere derde zaterdag gehouden. Locatie is de intieme Valkhofkapel (meer). Terugkerende elementen in de ceremonie zijn een verhaal van een pelgrim die al gelopen heeft, een (meestal) live gezongen pelgrimslied en het uitzwaaien van de pelgrims met ons lijflied Ga pelgrim, ga…
Let op: om 09.45u start een stiltewandeling vanaf het beeld van Mariken op de Grote Markt, vlakbij de Stevenskerk. Wie wil kan dan de eerste 500 meter van de route in stilte mee oplopen naar de kapel. Pelgrims worden daar met hun vertrekdatum bijgeschreven in het 'grote boek': het pelgrimsregister.
Ceremoniemeesters:  Lidia van Engeland (pelgrimcoach, link interview), Birgit van Onna of Manja Bente, mede ontwikkelaar van de Walk of Wisdom.
Pelgrim die vertelt: nog niet bekend.
Muzikant: akoestisch duo Messingh: Ben Dirks en Helma Mollenkamp (link)
Aanmelden?
Bestel hieronder een gratis ticket.
Belangstelling om als pelgrim iets te vertellen of muziek te maken? Neem contact op.